Maternity teams scoop award for supporting vital research
The Maternity Triage, Maidstone Birth Centre and Antenatal Ward teams at Maidstone and Tunbridge Wells NHS Trust are joint winners of National Institute for Health and Care Research (NIHR) awards for their contribution to vital research projects across the region.
The awards – launched by the NIHR Network Kent, Surrey and Sussex – are a chance to say thank you to those who support the delivery of research and give patients the opportunity to take part in research that could lead to new treatments or new ways of delivering care.
The judging panel for the awards, made up of NIHR and NHS representatives from around the region, were impressed with the support given to the GBS3 trial by all three teams.
The trial involves the routine testing of pregnant women for group B Strep (GBS), the most common cause of life-threatening infection in newborn babies in the UK, comparing two different testing approaches. The teams' dedication to research has led to 80% of eligible women being offered the test for group B Strep.
The judging panel said: "A huge amount of hard work was put into delivering the trial 24 hours a day and the trial was a success because these teams embraced research, on top of their busy workloads. Their commitment to the study has been astounding, and it will make a huge difference to mothers and babies in the future."
Maidstone Birth Centre Managers, Louise Taylor and Shona Slingo-Bass said: "This is a huge boost to staff, as we have been passionate about supporting the GBS3 study since it started last year. Our dedication to the research is reflected in the numbers of women and birthing people being screened at the point of care. We're committed to continue supporting this and all other research studies that we are fortunate to be part of."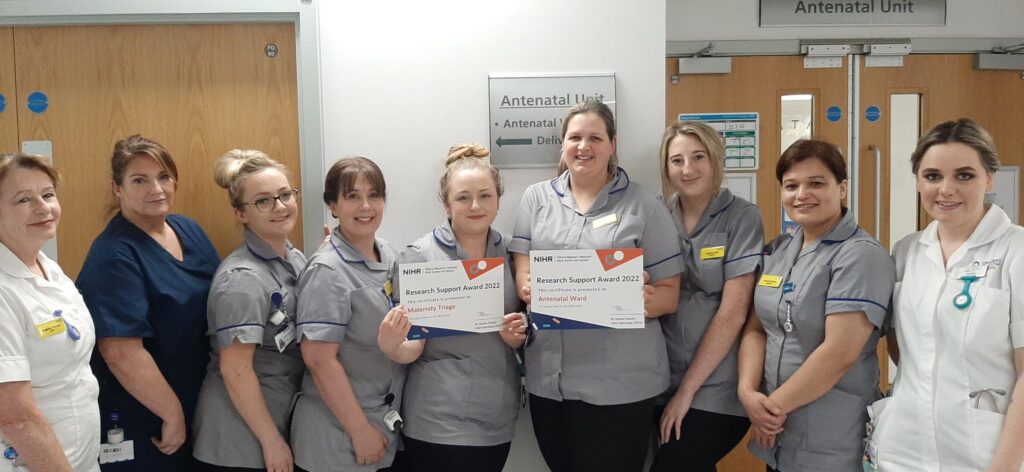 Interim Antenatal Ward Manager and Maternity Day Assessment Lead, Kelly Everdell said: "It was an honour for the team to be recognised for their ongoing hard work in facilitating the study. To find out we were the winners is testament to the effort the team has put in, discussing the study and implementing it with those patients who were happy to be tested.
"It is great that we can offer this service to our patients and know that we can put steps in place to reduce the risk of babies contracting GBS and potentially becoming unwell."
The Trust's Medical Director, Dr Peter Maskell said: "I'm delighted that our Maternity Triage, Maidstone Birth Centre and Antenatal Ward teams have been recognised for their support of this important research project. Research at MTW involved over 4,000 patients last year, and the work of everyone involved in our research community helps with the development of better treatments; improving diagnosis, prevention, care and quality of life for everyone.
"I am grateful to all the teams who have helped support research in the Trust this year; each of them has made a difference. We are also grateful to all the patients who have taken part in our trials and projects. We are always struck by their willingness to take part in research and to help others".
Dr Joanne Zamani, Chief Operating Officer, NIHR Clinical Research Network Kent, Surrey and Sussex added: "The number and quality of nominations this year was incredibly high and included many inspiring stories. Deciding on the winners was challenging – with so many high quality nominations from a wide range of disciplines. It is wonderful to see the extraordinary level of commitment people working in health and care show to improving the wellbeing of their communities."